Do you make excuses on why you don't have time to exercise with a busy lifestyle? Don't worry most people come up with a hundred of excuses on why they can't make it to the gym today or even exercise in the comfort of their own home. The best way to meet your weekly exercise goals, is to stop making excuses and schedule a "date" with yourself.
We totally get it that you are busy with work, household chores, and other priorities that fill up your daily schedule. But those who are seriously interested in making their fitness goals a priority make the time to fit exercise into their daily schedule. You have come to the right place if your number one excuse for putting your fitness goals on the backburner. Check out our ideas on how to make time to exercise with a busy lifestyle.
Take the Stairs
Do you normally ride the elevator at work? Get in a quick workout by taking the stairs; instead, of taking the elevator. Just think about all the extra steps that slowly add up throughout the day if you take the stairs more often.
Plus, you won't even notice that you are exercising but every little bit adds up. Take your exercise to the next level next time you need to stretch your legs or get away from your desk for a few minutes during the day. Head to the stairwell and use the stairs to get in a quick workout. Go up and down a flight of stairs several times. Also, give these stair exercises a try during your lunch break too.
Exercise Before You Head to the Office
Do you have a demanding career? We understand that having a demanding career can zap your energy and by the time you get home from work the last thing you want to do is make the time to exercise. Why not try to exercise before you head to the office?
Set your alarm clock and get up 45 minutes to an hour before your normal time. This may mean that you might need to adjust your bedtime routine but we promise that is it worth it in the end. Even if you don't have time to do a full workout, there are plenty of exercises that you can do in 30 minutes several times a week.
The best way to achieve an early morning workout routine is to make an appointment and treat it like you would treat other important priorities. This help keep your routine and exercise with a busy lifestyle. Whether you choose to work out at the gym or in the comfort of your own home, do what works best for you. Exercising in the morning may seem exhausting at first. But as you get accustomed to it, you will find that you have more energy to get things accomplished during your workday.
Pace Using the Phone
Next time you find yourself on the phone for an extended period of time, try standing up in front of your desk and walk back n forth. Pacing is not difficult but it gets you up during the day and moving. Extra movement not only burns calories but you are also increasing your step goal. Plus, pacing helps counteract the ill effects of sitting at a desk all day long.
Take a Fitness Class
Over the years, making exercise a priority can be difficult but we have found that finding multiple activities can help when you are burned out. Plus, fitness classes either at the gym or at home is perfect when you need to exercise in the extreme heat or when it is too cold outside.
If making it to the gym fitness class is difficult, especially, if you have a demanding career and can't always get away from your desk in time to make it to your fitness class. We suggest that you try a variety of fitness DVDs, such as Insanity from Shaun T (aff link), workout videos on YouTube, or use a subscription-based service like Grokker (aff link).
Try Watching Television While You Exercise
Do you spend several hours watching tv while vegging out on the couch every night? Instead of being a couch potato in the evening, try working out while you are watching television. Whether you go to the gym or exercise from the comfort of your home, you can binge watch your favorite shows while working on the treadmill, elliptical, or stationary bike. Just turn the volume up a notch so that you can hear it.
Working out while you are busy enjoying your favorite television shows is a great way to carve out time for your fitness routine. Plus, if you are really into your shows, you might not even realize how long you have been working out.
Use Your Lunch Hour Wisely
If you struggle to find ample time to work out, stop wasting your hour lunch break by sitting at your desk working or going out to eat. Start packing a healthy lunch and use 30 minutes of your lunch break to exercise.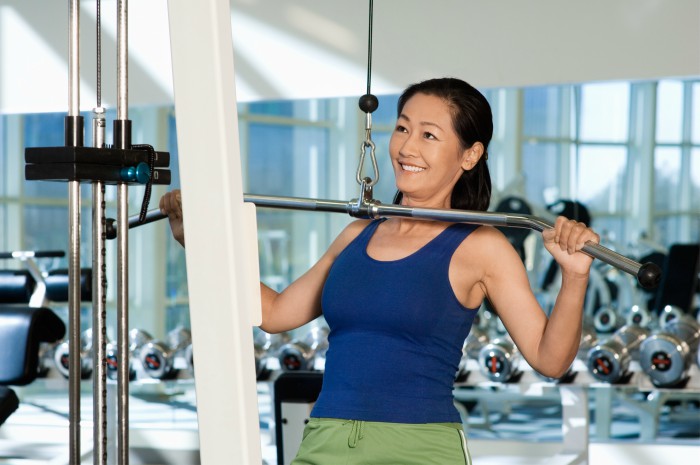 At lunch you can either go walking or find exercises that you can do anywhere, such as the stair exercises mentioned above. No more wasting precious time with your family nor worrying about when you are gong to find time to work out. Even if you get all sweaty, check out how to freshen up when there isn't a shower available.
Try Jogging in Place
Do you feel guilty when you missed your workout? Next time you miss your workout, try jogging in place for 20 to 30 minutes. It isn't the prettiest workout but you are still lapping those who decided to skip their workout routine.
You can use this trick when going to the gym seems impossible or the weather isn't cooperating. Do use a yoga mat or an indoor trampoline if you have hardwood floors in your home. Hardwood floors can be harsh on your joints especially your knees.
Implement a High-Intensity Interval Training (HIIT) Program
Athletes have been using HIIT training programs for 100 years to help improve their performance. With busy lifestyles and demanding schedules, implementing a HIIT training program makes perfect sense. A HIIT workout uses short bursts of intense effort and followed by a recovery period or lower intensity exercises.
Depending on the training program that you choose, you can achieve a great workout within a short amount of time. There are intense workouts that can be done in 10 to 15 minutes a day or longer. It makes this program work for those who can't devote a ton of time to meet their fitness goals. Just keep in mind that HIIT mostly uses aerobic exercises and that you need to add in body weight or strength training exercises too. If you are looking for home gym equipment, we suggest giving the ProForm HIIT Trainer (aff link) a try.
Finding ample time to workout is the number one problem that people have in today's modern and busy world. The best way to meet your fitness goals is to stop making excuses on why you can't find time to exercise. Instead, make time to exercise with a busy lifestyle with these tips. If you are serious about meeting your fitness goals, use the following ideas mentioned above and start making time to invest in yourself.
How do you make time to exercise with a busy lifestyle?