Buying a treadmill should be considered an investment in your health. So as you set out to the fitness store or are browsing treadmills online, it wouldn't surprise me if you were feeling a bit overwhelmed with the selection. Most stores carry a wide variety of treadmills to fit everyone's needs and can make the process of choosing a good machine a bit harder. Continue reading these expert tips before you buy a treadmill.
Budget
This is probably the most important thing that you want to consider when purchasing a treadmill. You are using the treadmill to invest in your own health and you are worth it. However,  we don't recommend that you go into debt when you buy a treadmill if at all possible. Do a few online price comparisons so that you have an idea of what you can get for your money. Most often when you buy a treadmill you get what you pay so look at a treadmill as a long-term investment. A basic treadmill will cost you under $500 but it may not be made for heavy use.
Space
Treadmills do take up quite a bit of floor space in your home. Before you buy a treadmill you should measure the space where you want to use it at. For example, if you are putting the treadmill in your bedroom, you want to ensure that you have a proper amount of space in your bedroom before making the purchase. Plus, experts recommend leaving plenty of space around the treadmill in case you fall or injure yourself. A newer treadmill won't take up as much floor space when it isn't in use so it might be worth considering.
Motor
The motor is the driving force and they are expensive to replace if they burn up quickly. Always inquire about the motor before you buy a treadmill because some treadmills aren't designed for heavy use. Most people buy a treadmill so that they can use it to walk; however, walking can cause more wear and tear on a treadmill's motor.
Programs
Walking alone is a great way to exercise because it is low impact and something everyone can do. However, if you are walking and doing the same intensity over and over, you will eventually hit a plateau if you buy a treadmill to lose weight. Look for treadmills that have multiple programs. Programs allow you to mix things up a bit and give you the ability to vary your intensity. Before deciding on a treadmill, determine what programs the unit offers before purchasing.
Buy from a Reputable Source
It is best to buy a treadmill from a reputable source so that you can contact them if you have any problems with the equipment. Some stores offer additional protection and warranties that can be purchased for an additional cost. Also, ask what the store's return policy is before you purchase a treadmill.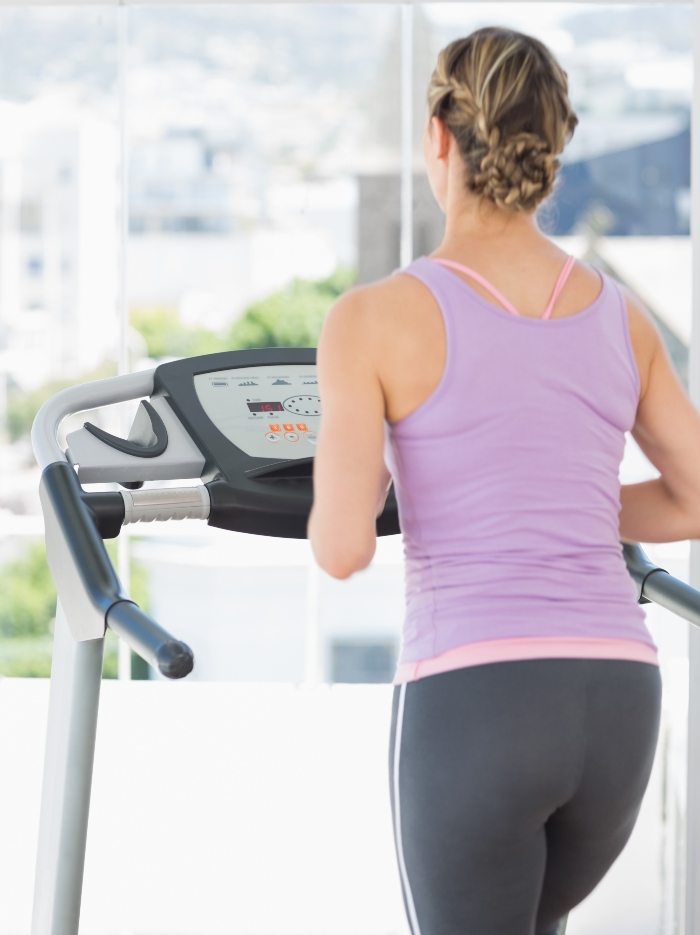 Always Test Drive the Treadmill Whenever Possible
We highly recommend that you test drive a treadmill so that you can test it out before you buy it. After all, you are spending quite a bit of money on a quality treadmill and you want to make sure that you like it first. Turn the machine on and walk for a few minutes so that you can test some of the features.
Also, wiggle the rails and see how sturdy they are. Some of the low-end treadmills, lack stability and don't compare anywhere close to a treadmill that you would use in the gym. Also, try running on it to make sure that you have enough room on the treadmill's deck to take a full stride.
Display
Does the treadmill have easy to read display? Make sure that you can easily read the display while you are walking and can easily change controls as needed. If the treadmill comes with a fancy display, ask what the warranty is on the display. You don't want to invest in an expensive treadmill that you can't use if the display goes out.
Do Consider a Used Treadmill
If you don't have a ton of money to spend on a treadmill, you can consider buying a used treadmill. Often people buy a treadmill with the intention of using it; however, life gets in the way and suddenly it becomes a storage fixture.
Ask the owner for the name and model number of the treadmill so that you can do your homework before deciding if the treadmill is a good buy. Plus, you can even look up the price so that you have an idea of how much the treadmill costs brand new. Knowing the original price allows you the ability to negotiate a better deal.
Do use caution when purchasing a used treadmill from someone on Facebook or Craigslist. Always take someone with you especially if you are going to their home to pick it up. Do test drive the treadmill to make sure it is in working order before you purchase it.
Buying a treadmill is a huge investment and is a great tool to use if you want to have the ability to work out in your home instead of spending time at the gym.
Do you have any additional tips when buying a treadmill?